Westlake Body Contouring
March 5, 2019
Light therapy for fat loss, healing, and so much more!
Spring is when we start looking for new ways to shed excess winter weight and inches in order to feel healthier, look better in our clothes, and get ready for summer. The compassionate staff at Westlake Body Contouring in Agoura Hills offers a great solution.

Owner Dr. Dianne Lalena Sandberg provides noninvasive fat reduction using a state-of-the-art Contour Light low-level laser therapy (LLLT) with a patented reflective coating, making it the most powerful on the market today. In 25 minutes, patients lose inches without pain, scarring, or downtime caused by more invasive techniques such as liposuction or CoolSculpting. LLLT does not cause cell damage, rather it opens up the fat cell wall and the fat drains out.

We asked Dr. Dianne some pertinent questions to help readers better understand the Contour Light process.

What happens during a session?
Patients consult with me prior to their initial treatment to address their goals and concerns. I'll also take your measurements before and after treatment. You are then covered with and comfortably lie upon LED pads for 25 minutes. After the treatment, you stand on a vibrating platform for 10 minutes to help drain the fat through the lymphatic system. Afterwards, you can go about your day's normal activities. In fact, you can come in on your lunch break and return to work immediately after your treatment.
What areas of the body can it be used on?
You can lose inches and tighten skin on virtually any area of your body where fat accumulates. This includes hardto- lose places such as hips, waist, thighs, back, and upper arms. The state-of-the-art face mask is used for facial rejuvenation, rosacea, and acne.
Are there any side effects?
The treatment is 100% noninvasive. Low-light laser red light therapy is not a form of radiation or UV. It is the safest ways to sculpt the body. Plus, there's no swelling, burning, pain, or bruising. The only real side effect is inches lost.
How quickly will one lose inches?
Patients will notice the slimming effects after the very first session and lose inches immediately. It's so effective that you're guaranteed to lose up to two inches on your first treatment or you get your money back.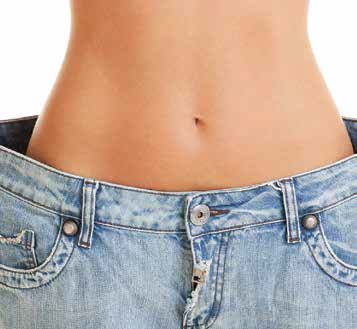 How does it work?
When exposed to a certain wavelength of light, fat cells collapse, releasing nearly all their fat. It drains through the lymphatic system as free fatty acids and is eliminated from the body. Patients typically lose around three to five inches in just one treatment overall, from the waist, arms, hips, and thighs. Even more reduction can be seen the following day. You'll not only lose inches and pounds but your skin will look healthier due to naturally increased collagen and elastin production.
Other uses of the light
Because the light increases blood flow, it is used for many
conditions, including:
Neuropathy
Arthritis and joint pain
Migraines
Concussions/brain trauma
Autoimmune diseases
A little history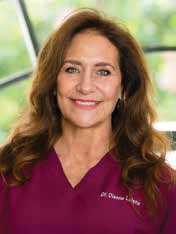 Low-level laser therapy has been used for over 50 years for wound healing because it stimulates collagen and elastin formation and it increases blood flow. Initial studies for wound healing were performed by NASA. The side effect was fat loss.
Dr. Dianne Lalena Sandberg's extensive career includes 20 years as a professional dancer before attending medical school for urology. In 2000, she graduated from chiropractic college. Combining 18 years of clinical experience with a lifelong passion for fitness and dance ultimately led to the creation of Westlake Body Contouring.

While a healthy diet and exercise is a key component for losing weight and inches, Westlake Body Contouring offers extra help in all the right places to help you achieve your goals faster and easier.


Westlake Body Contouring
30423 Canwood St., #205
Agoura Hills
Mediterranea 1 Building
818.852.7352
westlakebodycontouring.com
by Lori Berezin