Illuminate Face & Body Bar
January 4, 2019
Helping Clients Awaken their Inner and Outer Beauty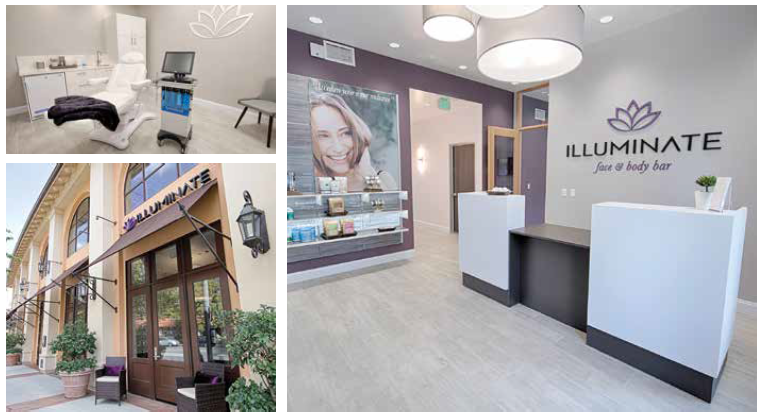 Most of us are familiar with the expression "Beauty is in the eye of the beholder." The owners of Illuminate Face & Body Bar combine wellness with medical aesthetics to help clients feel beautiful both inside and out. Today, the luxury medical spa has grown from just one Las Vegas location to six med spas in Calabasas, Brentwood, Newport Beach, Irvine, Las Vegas, and Santa Clara.

Offering the latest nonsurgical face and body treatments, skincare, and wellness modalities from meditation and aromatherapy to vitamin therapy and more, Illuminate's certified team of nurses is committed to creating a beautiful and natural result.

Putting the YOU in Illuminate
Illuminate strives to help clients look and feel better about themselves. Working with powerful, natural, and medical-grade ingredients, it fuses medical innovation with an appreciation of natural beauty. Whether you're looking to brighten and tighten your complexion, boost your immune system, or enhance your athletic performance, Illuminate has a therapy designed to help you realize the very best you.
A Radiant Retreat
The hustle and bustle of daily life can sometimes interfere with making wellness a priority. Illuminate is committed to providing a transportive, full-sensory experience that lets clients leave it all behind the moment they walk in the door.

It begins with aromatherapy. Each person can choose one of five signature essential oil blends to diffuse into the treatment room during a session. A signature meditation component is also incorporated to help relieve stress and balance emotions. Before the treatment, one can also enjoy several minutes or more of illuminating meditation.
Nourish Body and Soul
The staff at Illuminate Face & Body Bar believes that revitalizing the body is as important as replenishing the soul. To that end, they offer a delicious assortment of nutritious beverages and snacks, including on-tap Kombucha plus vitamin IV therapy treatments, injections, and cocktails designed to enhance wellbeing. The uniquely holistic concept encourages visitors to embrace the med spa's unique "from-the-inside-out" approach to beauty and wellness. Learn how to integrate this concept into your life at
illuminatespa.com/pages/calabasas-ca or 818.330.5595.