Amazing Lash Studio
November 5, 2019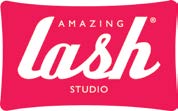 Enhance Your Natural Beauty for the Holidays and Beyond

Operating over 235 locations nationwide, Amazing Lash Studio is dedicated to raising the bar on perfection, lasting beauty, and professionalism in eyelash extensions. Ladies seeking lusher lashes have flocked to their studio in Woodland Hills since 2017, when Calabasas residents Steven and Lisa Ruby first noticed an untapped market in the local beauty scene.

The parent company remains the country's largest name brand specializing in the application and care of eyelash extensions. "Our licensed cosmetologists and estheticians go through our own in-house comprehensive two-week training program before we bring them onboard," says Woodland Hills franchise co-owner Steven Ruby. "We continue to develop our stylists through ongoing training, education, and support that enables them to grow with us, both personally and professionally. Guests can feel confident that they are receiving the very best care."

Amazing Lash Studio offers a variety of eyelash extensions from Featherweight Classic Lashes to Hybrid and Volume. They also offer the Lash Lift service. Starting with one of their four eyelash styles—natural, sexy, cute, and gorgeous—guests can further customize their look with their lash stylist to incorporate various lengths, thicknesses, and curls that best fit their facial features. The semi-permanent Lash Lift offers a lift and curl for natural lashes that lasts up to six weeks. This provides a lovely solution for people with straight or slightly bent lashes and those desiring a break from lash extensions.

Applying a full set of eyelash extensions may take up to two hours while a refill appointment lasts only about an hour. Similar to a spa visit, your stylist escorts you to a private room where you lie on a comfortable, cushioned massage table, draped under a cozy velour blanket. Your stylist evaluates your lash health and discusses your expectations to help you achieve the look you desire. Then, your stylist simply applies your eyelash extensions while you take a relaxing "lash nap." The stylist reviews your aftercare instructions to help maintain your gorgeous new look.

Follow-up appointment schedules vary, depending upon your particular needs, maintenance routine, and natural lashgrowth cycle. They generally recommend refills every two to three weeks. Sign up for emails or join the party on Facebook and Instagram for special promotions. New clients always enjoy an introductory rate of $89.99 for their first full set of eyelash extensions. They also offer monthly maintenance discount programs, including one ($69.99) or two (just $119.99) lash refills per month. Treat yourself to the ultimate lash pampering experience this holiday season and beyond at Amazing Lash Studio in Woodland Hills.
Amazing Lash Studio
21785 Ventura Blvd.
Woodland Hills
818.650.2444
amazinglashstudio.com